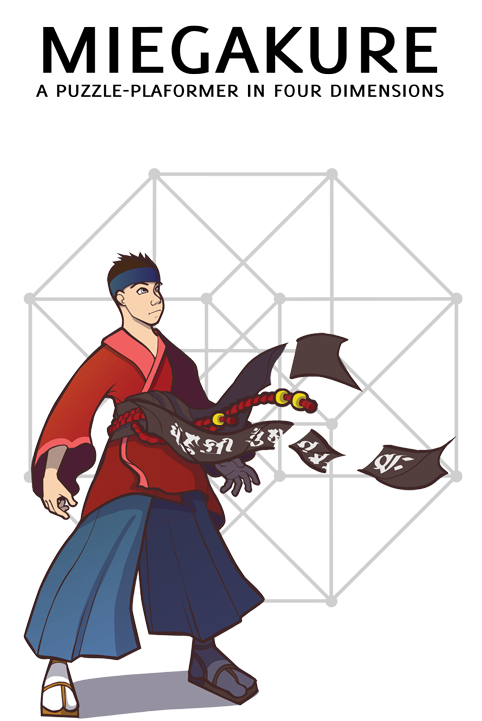 To The Inhabitants of SPACE IN GENERAL
And H. C. IN PARTICULAR
This Work is Dedicated
By a Humble Native of Flatland
In the Hope that
Even as he was Initiated into the Mysteries
Of THREE Dimensions
Having been previously conversant
With ONLY TWO
So the Citizens of that Celestial Region
May aspire yet higher and higher
To the Secrets of FOUR FIVE OR EVEN SIX Dimensions
Thereby contributing
To the Enlargement of THE IMAGINATION
And the possible Development
Of that most rare and excellent Gift of MODESTY
Among the Superior Races
Of SOLID HUMANITY


- Edwin A. Abbott, Flatland: A Romance of Many Dimensions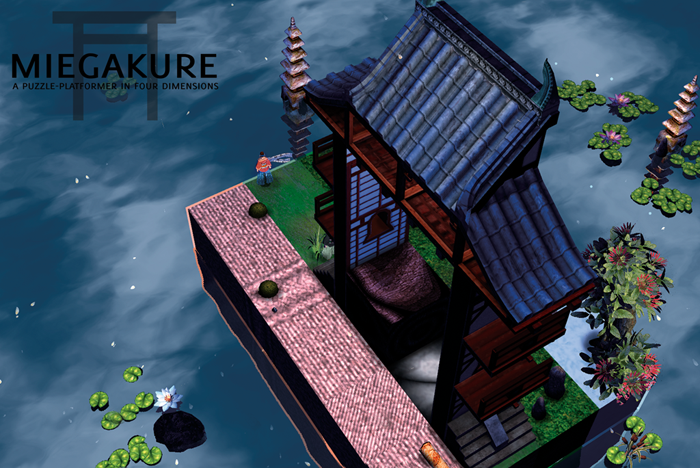 Miegakure is a platform game where you navigate the fourth dimension to perform miraculous feats and solve puzzles.
I find it easy to think of Miegakure as one of the great puzzle games of all time.

- Jonathan Blow (Braid, The Witness)
Marc ten Bosch is the only man I have ever treated as if he had a super-power. Not super-strength. Not heat vision. Something better. ... We're 3D infants and Marc ten Bosch wants us to play with some 4D blocks.

- Stephen Totilo (Kotaku)
At the player's cue, the fabric of the game-world suddenly warped and shifted so that the landmass seemed to be refabricating itself from the inside out. The effect was spellbinding.

- Taylor Clark (The Atlantic)
Proof positive that there are whole universes (maybe literally) of new ideas to explore in gaming!

- Warren Spector (Deus Ex)
It takes some time to grasp the concept employed in Miegakure, but once that moment of clarity crests, the effort is well worth it.

- Meagan VanBurkleo (Game Informer)


Our world is three-dimensional: width, depth, and height. How come there are exactly three? Why not four or five or more? What would the world look like if there were actually four dimensions but we could still only see three at a time?
This game is about exploring the consequences of being able to move in four spatial dimensions. It plays like a regular 3D platformer, but at the press of a button one of the dimensions is exchanged with the fourth dimension, allowing for four-dimensional movement.
In this case the fourth dimension is not time. While time can be thought of as a dimension in its own right, it functions differently than the first three spatial dimensions, in the sense that we perceive it to always be moving forward, for example.
Think about a two-dimensional character living on a horizontal, flat two-dimensional plane. To this character, height would be a foreign concept. A number of actions we three-dimensional beings take for granted feel like absolute magic to this two-dimensional character.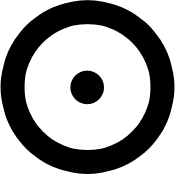 For example, if there is a
wall in the shape of a circle
around an object in 2D, it is
essentially closed-off
, since to reach it one would have to
leave the 2D plane
. It is also impossible for an outsider to know what is inside.
But us 3D beings can see the object from above, and also simply lift it off the ground to move it outside, essentially teleporting it. Now by analogy a four-dimensional being could perform many similar miracles to us living in only three-dimensions. This game allows you to perform these "miracles."
The game medium makes the mathematical concept of a fourth dimension easier to understand by allowing to experience it first-hand, using trial and error, as opposed to being told about it.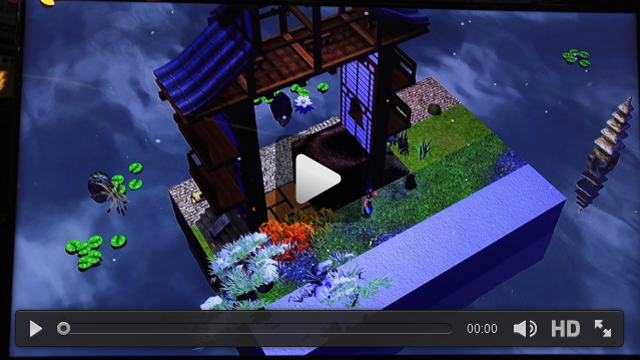 The game is currently in development and the goal is to release it in downloadable form for consoles and PC/Mac/Linux. There is no announced date and platform yet. There is no publicly released demo at this point. There will be one when the game is released though, so please be patient :) Thanks.
Blog...